Stage 1:
1. Create an account in GitLab
GitLab is a web-based DevOps lifecycle tool that provides a Git repository manager providing wiki, issue-tracking and continuous integration and deployment pipeline features, using an open-source license, developed by GitLab Inc.
Create your account here: https://gitlab.com/users/sign_in
Our hosting, CI pipelines are supported by GitLab with licensing us with their golden edition. All our projects are hosted on GitLab, since it aligns more with free and open source ideology rather than GitHub. Our members will benefit from having seats in the Ultimate SaaS Plan from GitLab for projects.
2. Fork and star our repository
Make sure you forked and starred our repository at https://gitlab.com/fossnss/website. This will help us to verify your GitLab account.

3. Run the site locally
Follow the steps below to run the website locally, the commands below are meant to be run in a Terminal emulator:
4. Create a new membership-submission issue
[Final Step for the completion of Stage 0]
Create a new issue at: https://gitlab.com/fossnss/fossnss-membership/-/issues/new

Select Membership Request from Choose a template in Description. This will create a form inside the issue box. Fill-in the details.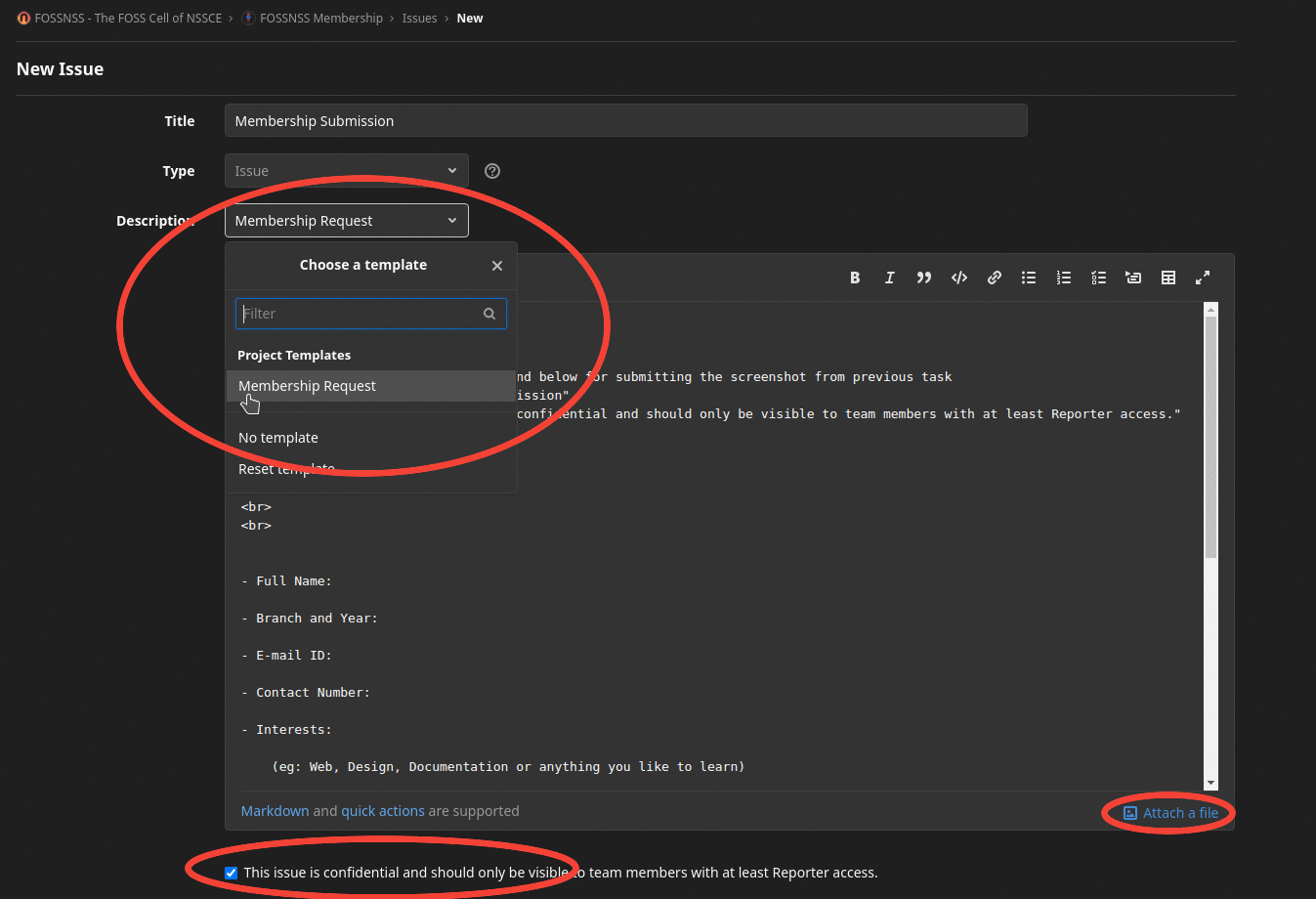 'Attach a file' option can be found at bottom of text-box for submitting the screenshots from the previous tasks. This is mandatory for the completion of tasks

Set the issue title as "Membership Submission"

Mark the checkbox "This issue is confidential and should only be visible to team members with at least Reporter access."

Set the Labels option as "membership-submission".

Complete the submission by selecting Create issue
Kaboom! You have successfully completed Stage 0 and Stage 1 of the FOSSNSS Membership drive. You have run our website locally, and learned how to start a new issue and a new repository. These are some basic stuff about open source. To take it further, try to use Linux as primary OS, and start learning Git - the most popular version control system.